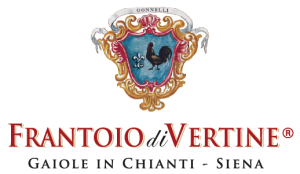 Vertine Oil Mill: this is a continuous cycle oil mill that works exclusively with the cold process. It has a milling capacity of 24 quintals per hour. This new line of machines crushes olives in the absence of oxygen.
The oil is then exposed to air until opening of the "Vertine Mill" Chianti Classico olive oil P.D.O. bottle by the customer. From October crushing takes place at the "Vertine Mill".
The medieval village of Vertine is located in the territory of Chianti, in the heart of Tuscany, and is situated on a 357-metre hill adjoining the village of Gaiole in Chianti. Vertine's Castle, also called the "walled village", overlooks the north-eastern extension of Chianti surrounded by the Chianti Mountains, a chain that divides Valdarno from the Upper Chianti.
Bastion of Florence, bordering the territory of Siena, the small village of Vertine has become the residence of the Ricasoli family several times since the 13th century, when the castles of the Chianti League were the subject of repeated acts of war such as sieges and pillaging.
The Castle and the village have largely survived intact, thanks to a series of fortunate circumstances that have led to the development of military confrontations elsewhere in the region.
Vertine was the Chianti castle that has achieved the most consistency as a walled village. Today it is possible to see the beautiful walls, restored only around 1500, and the rectangular tower that had the function of bridge house.
The "oil hall" in the hills of Chianti, in Gaiole, offers its customers oil crushing in compliance with the production specifications of Extra Virgin Olive Oil P.O.D.
It is possible to book by phone and fax on 0577/749120 or via e-mail through the contact form available by clicking here.
• Tel. e Fax: (+39) 0577 749 120
• Email: info@gonnelli1585.it